RaffertyOnline v3.0 Launched
March 05, 2012 @ 07:27 pm | By: Kyle Vachon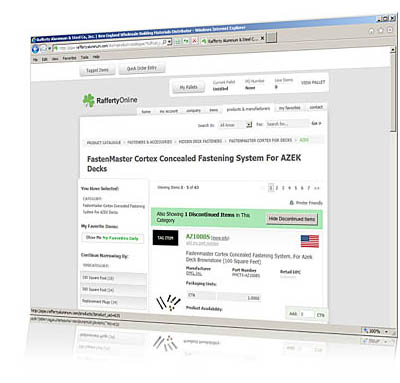 Today we launched version 3.0 of RaffertyOnline, and this article serves as a quick introduction to some of the new features you will find. RaffertyOnline version 3.0 is a complete overhaul of the existing website we have utilized for the past five years, which many of you have been using. We updated our accounting and inventory management system in early 2009, which afforded us the ability to easily integrate much more information into the website. You now have access to information that was never before possible, such as:
Complete order history
Invoice details
Return details
Expected due dates for the replenishment of our warehouse stock items
Item manufacturers and Manufacturer part numbers
Some other features you may enjoy include:
The ability to search for orders, invoices, and returns by PO Number
Link your own part numbers to Rafferty items, and have those part numbers automatically show up on your order acknowledgements, invoices and packing lists
An updated category/subcategory structure which helps you find the items you are looking for more easily
Find discontinued items and their substitute items (if any), in addition to current items
Version 3.0 also provides printer friendly versions of our catalogue pages, where you can choose which data fields you would like included for each item. Simply click the "Printer Friendly" link towards the top-right of that page. For those customers with multiple locations, you can view individualized information regarding orders, invoices and returns for each of those locations (depending on where your username is linked in your company's structure)
Much of the functionality you may have been used to on our older website, still remains the same. However if you have any questions regarding v3.0, please don't hesitate to contact your sales rep or our office staff for assistance. We greatly appreciate your business and support, and request that you please bear with us during this transitional phase.